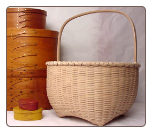 Click to enlarge image(s)
#9 Shaker Fruit Basket Kit


The #9 Shaker Fruit Basket has joined the growing lis of the most popular Shaker basket kits. Now you can enjoy making and appreciating the beauty of this classic Shaker design. The Fruit Basket is one of the Shaker's most celebrated utilitarian styles. With it's arched bottom and bonnet handle it will be an important addition to your collection. As alwyas, each kit is hand prepared by Nathan at the basket shop. Be sure to place your order soon.


10" diameter x 6" body height x 11-1/2" high overall




Woven on Nathan's #9 Fruit mold, sold separately.